INFORMATION AND HISTORY
West Palm Beach
505 S. Flagler Drive, Suite 600
West Palm Beach, FL 33401
T: (561) 655-2250
F: (561) 655-5537
lmrachek@mrachek-law.com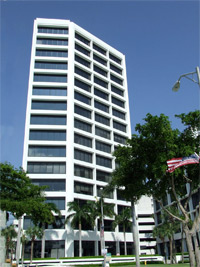 Managing Partner: Lou Mrachek
​Mrachek Law's West Palm Beach office opened in February 2000. Since inception, West Palm Beach has grown to include many accomplished attorneys, each representing the Firm's diverse clientele in a number of matters and practice areas. Our attorneys handle all types of complex civil disputes, representing the Firm's clients in arbitration, mediation, and trial, throughout the state and region. Our attorneys in West Palm Beach are also experienced in effectively representing the Firm's clients in the following areas: Complex Commercial Disputes; Civil Appeals; Bankruptcy Proceedings (Creditor's Rights); Business and Corporate Litigation; Commercial Lending Disputes; Intellectual Property and Trade Secrets Disputes; Product Liability Litigation; Securities and Broker's Litigation; Probate and Trust Disputes; and Professional Malpractice.
Directions to West Palm Beach Office
FROM SOUTH OR NORTH OF WEST PALM BEACH:
Travel South/North on I-95 OR Florida Turnpike to the Okeechobee Boulevard Exit
Take Okeechobee Blvd traveling EAST to Olive Avenue (approx. 1.5 miles from I-95; approx. 6 miles from Turnpike)
Turn LEFT (heading north) at Olive Avenue (get into the right lane).
Go to second stoplight which is Hibiscus.
Immediately after going through the Hibiscus stoplight, on the right you will see the entrance into the Flagler Center Parking Garage. You may park on this upper level if you will be visiting for longer than 2 hours, or you may park on the lower/ground level for short-term (less than 2 hours) guest parking. The entrance into the building is on the ground level. Mrachek Law offices are located on the 6th floor of the building.